The loan is one of the most effective and popular ways to get out of financial crises. Role loans get more important when you are in an emergency situation and want an Instant Loan from any lander.
Table of Contents
What is cred?
CRED App is among the same, CRED is among the most popular credit card bill payment apps in PAN India. Also, this company Offers Instant loans to its members and users.
This Article is About How to Get a Quick CRED Loan, Who will be eligible to get the loan, the Process, and all about.
The best part of These loans is that they provide quick approval, flexible repayment options, and attractive interest rates.
We are writing this because we are also a user of the CRED APP and We have a pre-approved loan.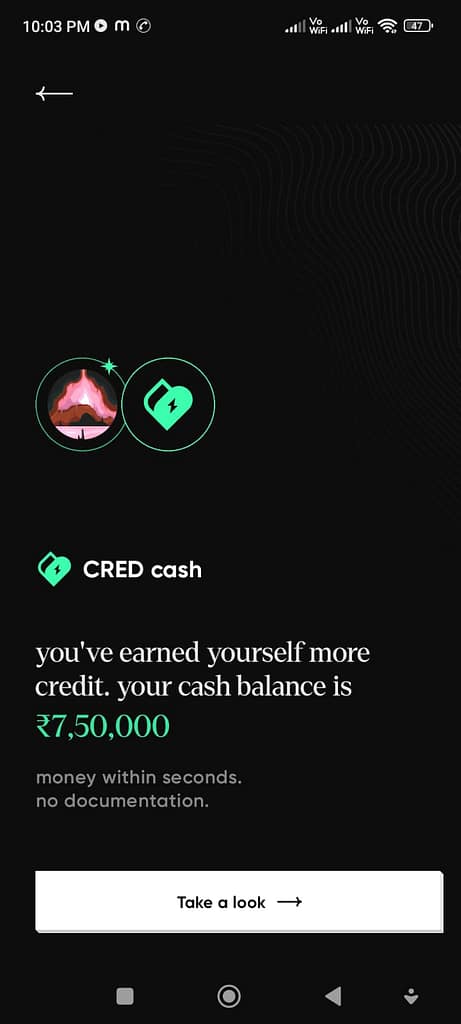 Eligibility Criteria for CRED Loans
These are more important steps that everyone should know about. Remember, this loan is not for all users, if you want to be one the them, you must meet the following criteria:
1 . CRED membership
CRED provides this loan to only CRED Members, not to all. The first criterion is to have membership.
Here are the steps for the membership
First You must have a Credit Card
Click the App Link to Download the CRED App
Now Register yourself as a registered user.
Now You have to maintain a good track record of paying your credit card bills on time.
After some time according to Your Transaction and Limit, the Cash option will start showing.
Now whenever you need cash, You can avail of it.
2. Credit score
In India, Credit and financial stability are judged by the Credit score. A credit score is also known as a civil score. which is again divided into four parts.
| CIBIL Score Range | Rating |
| --- | --- |
| 300-499 | Poor |
| 500-649 | Average |
| 650-749 | Good |
| 750-900 | Excellent |
As your Credit Score goes up, Your % of interest will be lower. Here A minimum credit score of 750 is generally required.
3- Age
You must be between 21 and 58 years old.
4-Employment:
You must be salaried or self-employed with a regular source of income.
CRED Company in Details
| | |
| --- | --- |
| Name Of Article | CRED Loan Apply Kaise Kare |
| Type of Article | Latest Update |
| Name of the Bank | Cred |
| Apply Mode | Online |
| Who Can Apply? | Every Cred Apps User Apply |
| Type of Loan | Personal Loan |
| Name of the App | Cred Apps |
| Loan Amount | ₹50000 Up to ₹10+ lakh |
| Official Website | Cred Apps |
How to Apply for a CRED Loan ( CRED Loan Kaise le)
The CRED Loan Application process is very simple and straightforward for those who are willing to get a loan.
Open the CRED app
Navigate to the "Loans" section
Check your loan eligibility
Initiate the loan application
Provide required information
Review and submit the application
Instant Approval and Disbursement
Here is the best thing that you will experience with CRED and its Instant Loan Approval. Everyone who is associated with CRED is great in terms of Civil score so no issue of document verification and validation. If approved, the loan amount is disbursed directly into your bank account within minutes.
Benefits of CRED Loans
CRED loans have many benefits for their member for loans as checked below
Quick and easy application process
Instant approval and disbursement
Flexible repayment options
Attractive interest rates
No hidden charges
CRED Loan is One of the easiest and Instant Loan provider for their user.
Q. How to use cred coins?
CRED coins cannot be used directly as cash or for shopping but cred coins can be redeemed for various rewards and benefits through the CRED app.
Q. is cred safe?
Yes! is 100% safe to use. Because till the date no significant security breach or complaint against CRED.
Q. What is the CRED app?
CRED App Is India's #1 and most popular credit card bill payment app in PAN India. Apart from the Credit card, the company also provide loan and payment option through CREDIT Card.