An increasingly common alternative to using cash or a debit or credit card to make purchases is utilising a digital wallet. But which digital wallets are the greatest and which one is ideal for you?
It's crucial to compare the costs and features of the most widely used digital wallets available today as you decide which option to use so you can pick the one that best suits your requirements.
Digital Wallets
Due to the convenience and security of using a digital payment method instead of cash, more consumers are doing so.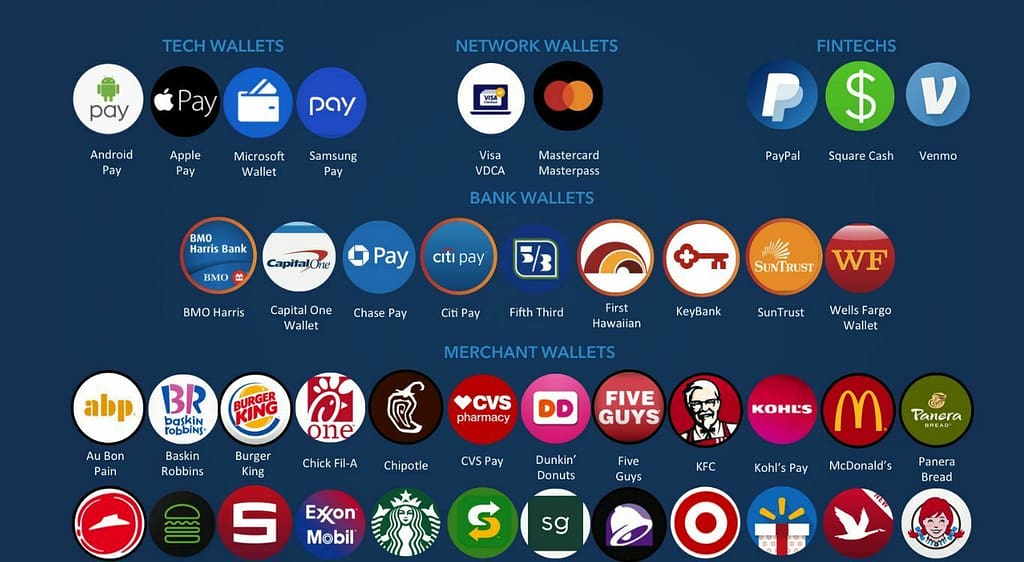 With the use of a digital wallet, you may shop without having to carry around a real wallet. You can transfer money to loved ones or receive it from them using some options. Even better, they might be safer than using a debit or credit card or carrying cash.
Google Pay
NFC (near-field communication) technology is used by Google Pay, also known as Google Wallet and Android Pay, to facilitate payments in more than 40 countries.
As long as the devices are close to one another, NFC enables communication between them.
This digital wallet uses a Device Primary Account Number to protect your information (DPAN). Your funding account number is replaced by a DPAN to prevent unauthorised use by merchants and retailers.
Features of Google Pay
By inputting a debit card, credit card, PayPal account, or bank account information, Google Pay enables you to contribute money to your digital wallet or make transactions.
It's significant to remember that not all nations allow access to bank accounts.
Depending on where you reside, there can be more payment options. For additional information, see the Google Pay website.
Purchases can be made at participating in physical stores and online merchants. Google Pay can also be used to send money to family and friends.
When your accounts are synced, Google Pay also enables you to analyse your spending patterns and identify places where you may save money. This can make keeping tabs on your financial situation simpler.
What are the fees?
There are no fees associated with using Google Pay to make purchases. Additionally, there are no fees associated with sending or receiving money from relatives and friends.
You must pay a fee of either 31 cents or 1.5% of the amount being transferred out of your Google Pay account, whichever is higher.
Apple Pay
Another great digital payment option is Apple Pay, which similarly employs a DPAN to safeguard your account information.
Shops that accept Apple Pay include:
Albertsons
Best Buy
Costco
Disney
GameStop
Nike
Starbucks
Apple Pay is a safe way to complete transactions since every transaction you make with it is private and secure
Features of Apple Pay
The iPhone, Apple Watch, and iPad are just a few of the numerous Apple products that support Apple Pay.
This digital wallet can be used to pay for goods in stores, pay for a variety of public transportation options, send money to loved ones, and more.
You can keep money directly in your Apple Pay account or connect your debit or credit card to make purchases.
The Apple Card application is also available. Customers who use their iPhone or Apple Watch to pay with their Apple Card can receive up to 2% back on their purchases using this credit card.
What are the fees?
Both using your debit card or your Apple Pay balance incurs no fees. Using your Apple Card to make a payment is likewise free.
There is a 3% fee when making payments using a credit card.
Venmo
One of the most well-known digital wallets is Venmo, a PayPal subsidiary. Your information is protected by bank-grade security and encryption on the app.
To use Venmo, you need a working email address and a cell phone from the United States.
Features of Venmo
You can use Venmo to make in-person or online purchases from participating merchants. You can also use it to send money to relatives and friends or get money from them in exchange for services you perform.
By linking your bank account, debit card, or credit card, you can make payments directly from your Venmo account.
Using QR codes can also help you transfer money to the correct person and let the software calculate how much to split the bill between various recipients.
Additionally, you can direct deposit your wages into Venmo. If you deposit your paycheck in your regular bank account, money can arrive in your Venmo account two days earlier.
What are the fees?
You won't be charged any fees by Venmo to sign up, keep your account active, or make payments with a debit card or bank account. For transactions made with your credit card, you will be charged 3%.
Cash App
Your information is protected by level 1 PCI-DSS certification used by Cash App. You can feel more certain that your data is protected knowing that this is the strictest security standard available.
Features of Cash App
Debit cards and all common credit cards are accepted by Cash App. You can donate to your preferred charities or send and receive money from other users.
Keep in mind that in order to use Cash App for payments, businesses and nonprofit organisations must be partners with it.
By enrolling in direct deposit using your Cash App routing and account number, you can get your paycheck and other direct transfers like tax returns up to two days earlier.
Cash App has a feature to assist you if you wish to convert your money to Bitcoin. Additionally, the app offers an investment option that enables you to purchase shares of stock for as low as $1.
What are the fees?
If you make a withdrawal from an ATM, a $2 fee from Cash App will be added to any costs levied by the ATM owner. 1.5% of any transfers made instantly to or from your bank account could potentially incur fees.
Additionally, there can be charges associated with buying or selling bitcoin through the app.
Facebook Pay
With the help of Facebook Pay, users may make payments to others on Facebook, Messenger, Whatsapp, and Instagram.
Your payment information is kept private by Facebook Pay, which places a high priority on security.
Your other Facebook account information is maintained apart from any payment information.
To use Facebook Pay, you must have a Facebook account.
Features of Facebook Pay
You can send or receive payments for goods offered on Marketplace using Facebook Pay.
Additionally, you can donate to Facebook or Instagram fundraisers or send money straight to loved ones via Facebook Pay.
You can send payments with Facebook Pay using a debit card, credit card, or PayPal account.
There is also a customer support department open if you have any questions regarding your account.
What are the fees?
While it's free to send money to relatives and friends using Messenger, there can be a cost if you pay someone on Marketplace. Review Facebook Pay's conditions for further information about fees.
Amazon Pay
Holders of an Amazon account can use Amazon Pay to pay for purchases on Amazon and thousands of other websites.
Features of Amazon Pay
Any participating retailer that accepts digital wallets as a form of payment will accept Amazon Pay.
You can choose from practically all of the payment methods you have specified in your account while using this digital wallet.
It's crucial to know that when using Amazon Pay, you cannot spend the remaining balance on an Amazon gift card. This online payment method is merely a middleman between you and merchants.
Be warned that Amazon Pay may provide retailers with your credit card's last four digits or other information.
Your eligible purchases are covered by Amazon's A to Z Guarantee when you pay with Amazon Pay. All additional inquiries regarding your transactions, however, must be sent to the merchant.
What are the fees?
Amazon Pay doesn't charge any fees, however if you use this payment method at overseas retailers, they might.
Dwolla
With the help of the digital payment system Dwolla, you can transfer or receive money from anyone who also utilises the platform.
Features of Dwolla
Your debit and credit cards can not be connected to Dwolla. Instead, it uses the ACH system to send and receive money straight from and to your bank account.
Your Dwolla ID, email address, or mobile phone number serve as forms of identification. Your bank details won't be disclosed by Dwolla.
Dwolla has the advantage of being less expensive than digital wallets like PayPal if you intend to receive payment for the sale of goods or services. While Dwolla only costs 25 cents for transactions $10 and up, PayPal charges 2.9% plus 30 cents.
What are the fees?
You are not charged by Dwolla if you send or receive money that is less than $10. There is a flat fee of 25 cents each transaction for sending and receiving money over $10.
Walmart Pay
Walmart Pay might be the answer for consumers looking for a digital payment method that they can use. Your information is protected by SSL technology encryption and approved payment methods.
Features of Walmart Pay
Walmart Pay aims to make shopping at Walmart quicker and simpler. When you are prepared to make a purchase, simply swipe your phone over a QR code that appears on the PIN pad at the checkout.
With Walmart Pay, your payment card details—including the CVV code—are saved. In order to prevent hackers and fraudsters, Walmart employs multiple security measures and continuously analyses its system.
Credit cards and Walmart gift cards are simple to add to your Walmart Pay account. Unfortunately, this digital wallet does not allow you to utilise your bank account.
Remember that Walmart Pay is only valid at Walmart. Sam's Club and the petrol stations at Walmart do not accept it.
Users using iOS and Android devices can access Walmart Pay.
What are the fees?
Walmart Pay can be used without cost. You won't be charged anything for using this digital wallet.
Zelle
Use the online payment service Zelle to send money to friends and family. Your recipient won't have to wait long for their money because payments are issued promptly.
Features of Zelle
With Zelle, you can send money to and receive money from other members of the service. It carries out transfers using information from your bank account.
You can still transfer money using the Zelle app on Android or iOS even if your bank isn't a partner with the service.
One cool characteristic of Zelle is how quickly transactions are finished.
It's crucial to use Zelle exclusively with people you can trust. This is due to the fact that once you send money through Zelle, it cannot be returned.
What are the fees?
You don't pay anything to send or receive money using Zelle. Having stated that, utilising this digital wallet may result in costs from your bank. You should contact your bank for more details before using it.
PayPal
PayPal was one of the first digital wallets to be made available. It provides services globally in more than 25 different countries.
PayPal uses encryption technology and continuous monitoring to keep your financial information secure.
Features of PayPal
Both online and offline purchases can be made using PayPal. PayPal makes it simple to send and receive money from loved ones.
Another choice is to send invoices to other people when you sell goods or services.
All popular credit cards are supported payment ways via PayPal. You can pay by linking your bank account as well.
When you make purchases using PayPal, you have access to a tracking feature that can help you keep track of every spend. Additionally, you get access to all of the funds that other people have donated to you via PayPal.
What are the fees?
It costs nothing to use PayPal to make purchases unless there is a currency conversion involved. If you utilise a bank account to complete the transaction, sending and receiving money from relatives and friends is likewise free.
Conclusion
For all of your needs including sending and receiving money, there are numerous digital wallet options available. Your needs will determine which digital wallet is appropriate for you.
Several of these payment options are available for use. There is no justification for limiting oneself to one. See which options best suit your needs by trying a few of them.